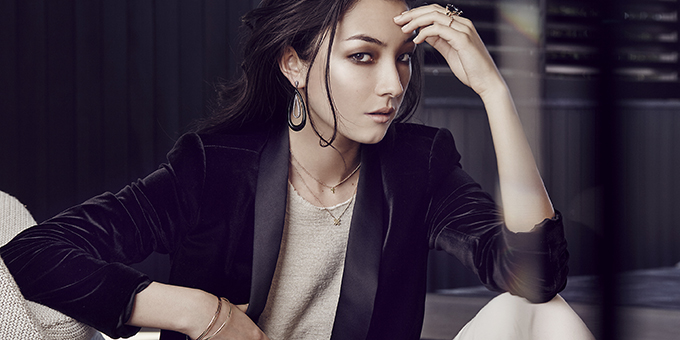 Name: Asha
Age: Undisclosed
Sex: Female
Race: Elemental/Demonic
Height: 5'3"
Build: Slim but curvacious.
Family: Caine, Nate, Vaughan and Romal are brother to her, Father Nero and Mother Tanya (D).
**Appearence**
Hair: long and wavey raven black hair
Eyes: Hazel
Markings/Tattoos: Asha has one marking located on the centre of her shoulder blades in relation to her family, the marking which unites all who possess Nero's blood. It often glows a soft violet. She is often seen with a simple ball labret and tongue piercing. She has a scorpion tattooed upon her left hip and a snake armband tattoo on her right upper arm.
**Powers and Abilities**
Healing - Asha possesses an ability to heal using energy from another life source or alternatively her own energy stores. this is based on the belief that something must end for something else to begin. Asha is prone to periods of weakness and blackouts dependent upon severity of injuries etc.
Magic- using the gifts from the natural world around her, Asha may also practice medicine for general and cultural reasoning, her religious beliefs a personal matter for her.
Elemental - Possesses some elemental ability in terms of the earth, promote growth of flora and replenish the soil.
Personality: Asha carries fiesty response when rattled yet is most often laid back in terms of mood. Shy with personal feelings she often finds it difficult to express her desires unless irritated. Often flirtatious without meaning to be Asha parties hard like her brothers and is loyal to the memory of Criston
Past History: born in a small remote community of Russia, Asha was not meant to live. born the daughter of Nero, father of the four brothers and according to coven law; Asha and any other female born from the blood of Nero were to be killed with their mothers. At a time of revenge and mutiny in the wings, Criston employed a local warlock, stealing away Asha and killing the mother before Nero had a chance to return.
Criston made his orders clear through secret contact, Asha to be raised and taught with the applications of herbology and healing, the uses of magic and movement of an assassin. She was lectured on the history of her father and prophecy of the brothers, spending many years of her life in secrecy. for the most part her history remains unwritten, a preferred option for Criston.
The Dimitru brothers were surprised however when Asha arrived at in Matashina lands and revealed her identity. She moved into the estate Vaughan had purchased and so began the rebuilding of the Dimitru coven. This did not last for long until disruption erupted among their plans.
The brothers and sister entered into a state of mourning after Romal's tragic death though what they did not know was that their father had plans for the youngest brother. Initially Romal fought the torment and the tortures from his father and his minions. Holding out for over seven hundred years until in desperation he cracked, allowing his father to break down the mental barriers he had spent his entire life constructing to keep his father's hold from him.
Corrupting all that Romal thought to be true, all he loved Nero stole his son's identity twisting his thoughts against him until he believed that what he was supposed to be was the monster he had been created to be. Filling his son with hatred and rage Nero worked upon him the way he had always wanted to with his son's.
Breaking him down to nothing then building him back up again to be the monster he had always dreamed of. Making him hate with his whole soul Nero readied Romal for his release knowing that it would soon be on the cards, Sauri Matashina driven crazy with grief would soon manage to call upon Romal for resurrection, which played straight into the hands of Nero.
Allowing Romal to return to the earth in a new body, Nero would watch the unleashing of the monster, hoping that it would destroy all the Dimitru children so he could complete the same transformation with them and finally complete the prophecy. Upon Romal's return to earth the brothers were locked in a raging war with Vaughan as the natural leader left to try and work out how to save Romal without anyone being killed.  Asha had stayed away from the confrontation however and was not seen at this time. After managing to capture Romal and imprison him, the remaining brothers used a combination of angels blood and Caine's psychic abilities to cut Nero's influence over Roma. Despite their success this left Romal with perhaps more mistrust and trauma than first thought.
Whilst turmoil reigned supreme with the Dimitru family, Asha had found a new friend in Hope Death, finding their personalities the ultimate combination and their love for throwing a good party a great escape from the Dimitru estate.  Asha spent a great deal of time talking to Hope, her first close friend. Unfortunately as her brothers entered into a dangerous game of liaisons with women, Vaughan and Romal battled each other before her eldest brother Vaughan left the family and joined Plague in Mayhem, giving himself over and turning darker then she had anticipated. Hope had left town with her aunt and returned to arcane and Asha found it hard to find stability with Caine and Romal.
Fighting to find a way to bring her brother home, Asha left the matashina lands, seeking out someone who could offer advice with Malice, Vaughan's hell hound for companionship and protection. Heading to Arcane to see if she could find her friend Asha arrives.

Asha Dimitru




Posts

: 35


Points

: 41


Join date

: 2016-03-28




Similar topics
---
Permissions in this forum:
You
cannot
reply to topics in this forum