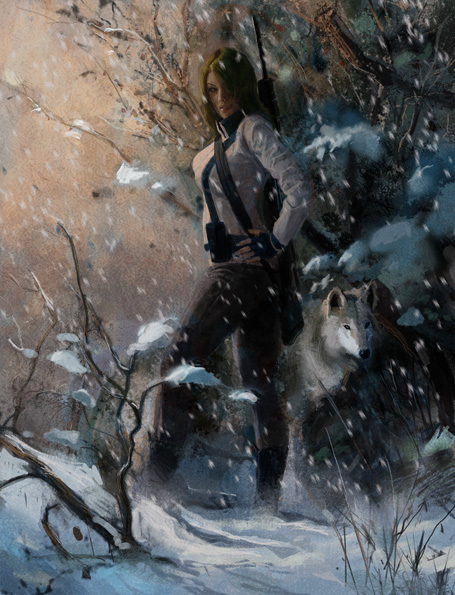 Name - Nammia
Nickname - Nia
Age -26 in human years
Orientation - Straight
Mate - Zigan
Pack -  Alpha with Zigan
Family - Parents- deceased.
Breed - Lycan
Scent - Damp earth and honeysuckle
Personality - Nammia is a cunning being, she uses her mind over her brawn but if needed she will be ruthless. She is in her element when she is alone but has a strong loyalty.
She is kind hearted and will only use her strength if needed, she is very protective of people she trusts. Upon first meeting, Nammia can be cold, not trusting easily.
Details
Height - 5"9
Weight - 126 pounds
Eye colour - Green
Hair colour - Brown
Build - Slender but athletic
Unique markings - A scar across her neck
Strengths -
Very powerful physical strength, Cunning, courageous, can speak to other's minds. She adapted her mind speaking to be able to place images in other's mind, leaving them in a hypnotised state, she can also keep track of people from a far distance to make sure that they are safe.
If needed she can also look into people's memories.
Weakness -
Overly courageous at times, this has got her into a few tricky situations. Nammia can die just like any mortal can.
History
Klara, Nammia's mother, fell in love with a male from the Harooda pack, a fierce enemy of her own. They mated and were both exiled by their own families, fighting for their own survival they ran.
Their love for each other grew and they fought fiercely to protect each other's survival. In time they mated and had Nammia.
The Harooda pack were the first to find out about Nammia. Kane's older brother Nannoock was angered by this and it become his goal to Kill Kane and his family. In time Klara's previous pack, Dynala, joined the hunt.
They spent their lives running trying to protect Nammia until the Dynala pack ambushed them and after a brutal attack, left Klara for dead.
Kane's fury ripped the Dynala pack apart. Nammia tried to comfort Klara until she passed and anger coursed through her veins and she joined her father in in the fight.
During the fight Klara's killer, Giane, attacked Nammia and her powerful jaws pierced her throat and began to rip. Nammia could only think of her poor mother and that same rage that hit her before resulted in Giane's demise.
Nammia and her father stayed together for years, shifting between human and wolf form. Kane taught Nammia everything he knew and taught her well. She was impressively strong, cunning and courageous.
After her father passed Nammia wandered alone for three years until she came across the Kostas pack. She quickly became a member and gre to be an asset to them, leading their protective team and keeping their enemies at bay. Nammia excelled in Kostas, she had a few romantic interests including Blade and Blaze, but they didn't progress very far.
Nammia had broken relationships with some in Kostas and a lot happened, making her leave at one point. She stayed alone for some time but was pulled back to them eventually. Her bond withformer  Pack leader Zigan deepened and over time they became mated.  They went through many trials together before and during their time as a pair.
w.i.p

Requiem




Posts

: 1542


Points

: 1771


Join date

: 2013-11-14


Age

: 29



---
Permissions in this forum:
You
cannot
reply to topics in this forum